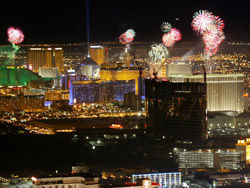 New Year's Eve in Vegas is explosive! Literally: hotels along the Strip will launch fireworks from their rooftops for the crowds on the street to enjoy. And that doesn't even begin to count the myriad shows and parties across the city. Here's the Riviera's guide to unforgettable New Year's Eve 2012 happenings in Sin City.
At The Riveria
December 30: MC Hammer and Tone Loc
http://rivierahotel.com/special-events/mc-hammer/
It's Hammer Time at the Riviera! Get your New Year's party started early by spending an evening with two iconic performers: MC Hammer and Tone Loc, who will be hosting New Year's festivities on December 30. Who doesn't remember, even two decades later, MC Hammer's "U Can't Touch This," performed in those memorable parachute pants? (See the bottom of this post for a blast-from-the-past video.) He'll be joining us for a rocking good time, proving that he's "Too Legit to Quit." He'll be joined by Tone Loc, a hip-hop star in his own right, best known for his Grammy-winning hit "Wild Thing."
December 31: Exciting New Year's Shows!
They say your choice of activity on New Year's Eve indicates what you'll spend the next year doing. If that's so, the Riviera has got you covered. You can spend the evening laughing (at the Riviera Comedy Club) or awestruck (by the magic of Jan Rouven).
On The Strip
For another option — or perhaps a place to take the party before or after the shows above — just head out our front door. The Las Vegas Strip is actually one of the coolest places to ring in the New Year. Last year, Fireworks by Grucci of New York launched a show from the roofs of numerous casinos, making for an amazing, explosive light show that lasted nearly 10 minutes and included over 56,000 explosions!
Las Vegas Blvd. closes to traffic around 6 p.m., so the few hundred thousand pedestrians expected to attend can get the party started. The people-watching rivals any major holiday, including Halloween, with enthusiastic revelers filling the Strip. The atmosphere is simply electric. Tip: alcohol could be surprisingly hard to come by, partly due to the sheer wall of people, partly due to the fact that many people will start their party as early as noon.
Elsewhere
The Fremont Street Experience
http://www.vegasexperience.com/ (Warning: audio starts automatically when you load the page)
Like the Riviera (above), the Fremont Street Experience is also giving partiers a chance to start early. The fifth annual, two-day TributePalooze begins on December 29. As the name implies, the festival hosts tribute bands who play homage to rock greats like the Rolling Stones, U2, Bon Jovi, Queen, Led Zeppelin and more.
Then on New Year's Eve proper, starting at 6 p.m., you can rock in the New Year at the Fremont Street Experience's New Year's Eve Party. They'll be featuring some amazing musical talent, like Buckcherry, Queensryche and a ton of local favorites. The event will also include a cool 2012 retrospective on the huge Viva Vision screen. Midnight will see a synchronized fireworks show.
Tickets start at $30 per person if purchased early; 21 and over only.
The Great Gatsby Party
December 31, 2012 at 1420 Jet Steam Drive – Las Vegas, Nevada 89052
More Information & Tickets
In the mood for something totally different? CollectiveZoo will be hosting "A Great Gatsby New Year's Eve" at Sky Combat – The Hangar (a very cool location often used for private parties). Tickets are a bit pricey — $89 is the cheapest, as the early-bird special for General Admission — but they'll get you partying in the two private airplane hangars, with a big band and a 7-hour open bar. Dress formally: tuxedos and 20s-style flapper dresses.
And Now, A Blast From The Past.